Mango's 'Revenge Dress' Is Taking Over TikTok – And You Can Still Shop It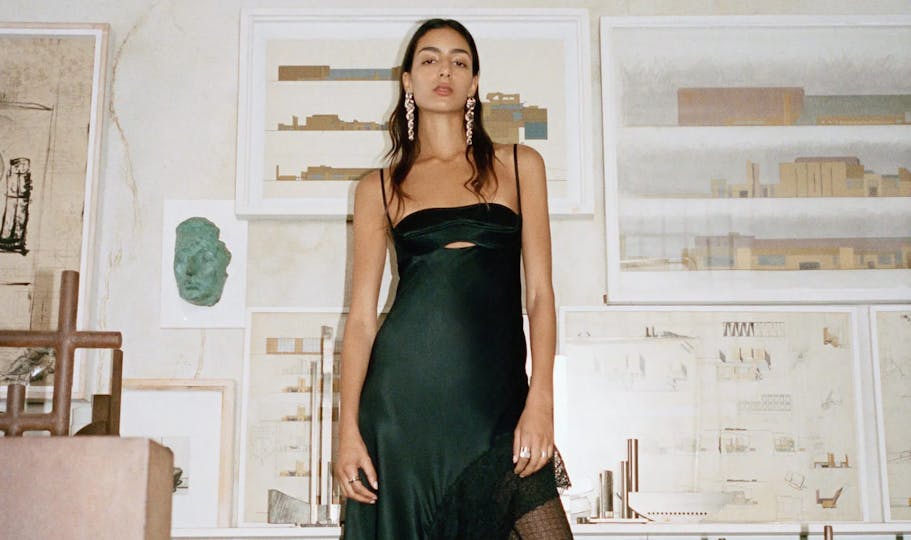 While keeping up with TikTok trends is a full time job, there are some more obvious viral videos that are hard to miss – the mascara trend being one of them. But the 'For You' page – while often littered with fashion hauls – can sometimes highlight one particular item everyone is wearing right now. And this time, it's Mango's black dress everyone is coining the 'revenge dress'.
So what's so great about it? The corseted top satin maxi dress with thigh high lace-detail split, is a complete wow dress. And it just so happens to be from the new Mango premium edit we were telling you about: Selection.
And what exactly even is a revenge dress? It's a term associated with Princess Diana, who wore a form-fitting black dress – designed by Christina Stambolian – to attend the Vanity Fair party in 1994. And this just so happened to be on the same night her then-husband, the former Prince Charles, confessed to adultery on national television.
Princess Diana at the Vanity Fair party in 1994 ©Getty
So what are the characteristics of a revenge dress? They're always black (as an ode to Diana's style), and they have to make you feel (and look) incredible, confident and powerful when you wear them. Basically it's such an amazing dress, the simple act or wearing it will be all the revenge needed for any exes, situationships or people from your past. So it's no surprise everyone has been seen showing off Mango's high street version on TikTok, for all to see!
Naturally this particular £139.99 style is selling out fast online, but there are still a few sizes up for grabs. Can't find your size? We have seen these in stores, so make sure to take a look. And if you're looking for under-£100 versions instead, we've rounded up all the best black could-be-revenge dresses for you. Whether it's Mango's other lace version, Zara's ruched midi or the & Other Stories bandeau, these are the dresses that'll turn heads.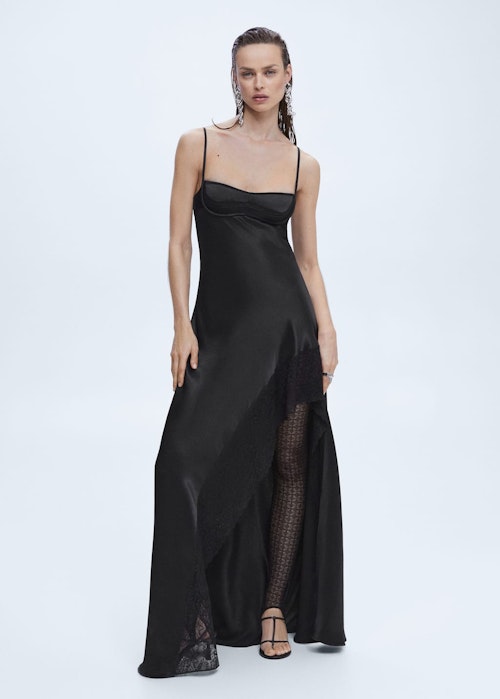 1 of 1
CREDIT: Mango
Say hello to THE dress. The corset detail. spaghetti straps, cut-out back and floaty satin material with lace side split is what makes this maxi style a high street hero.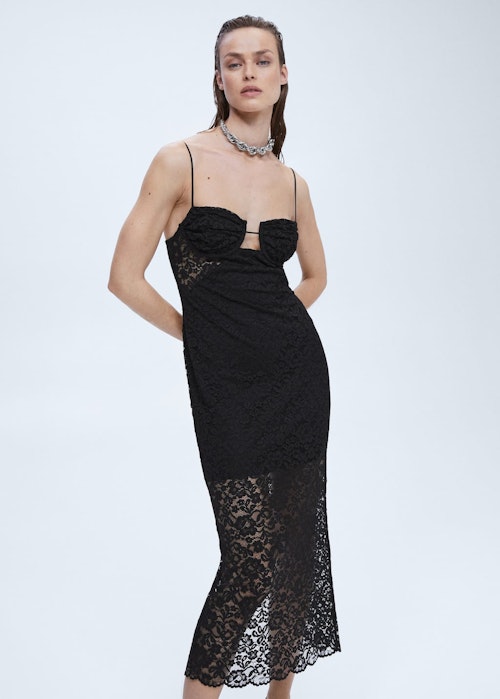 1 of 11
CREDIT: Mango
If you're wanting to stick to the under-£100 mark, this all-over lace dress also from the Selection collection is bound to be the next 'It' style from Mango.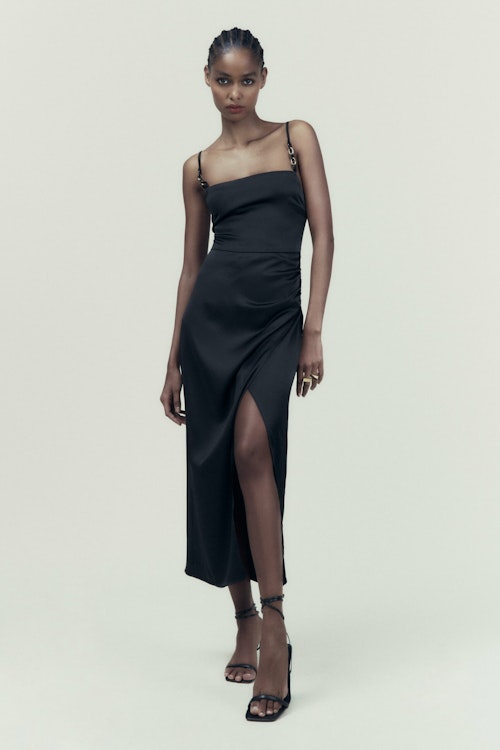 2 of 11
CREDIT: zara
A similar vibe, this strappy satin dress with square neckline is the ideal under-£50 version. Well done, Zara.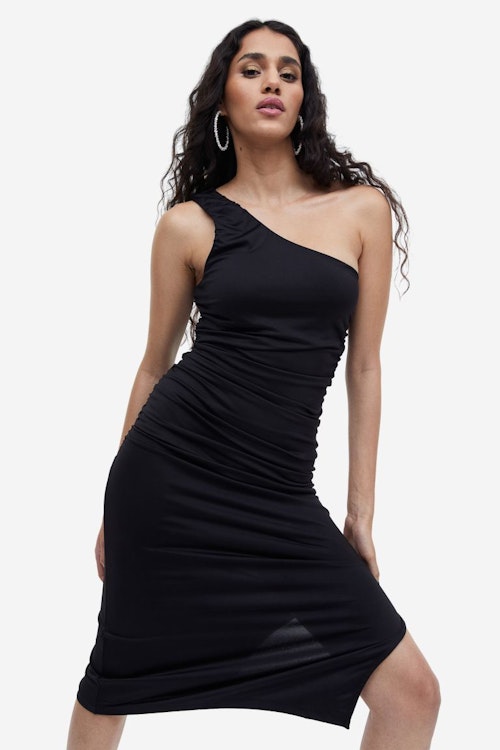 3 of 11
CREDIT: H&M
With bodycon and one-shoulder dresses being back this year, this is basically a two-for-one buy.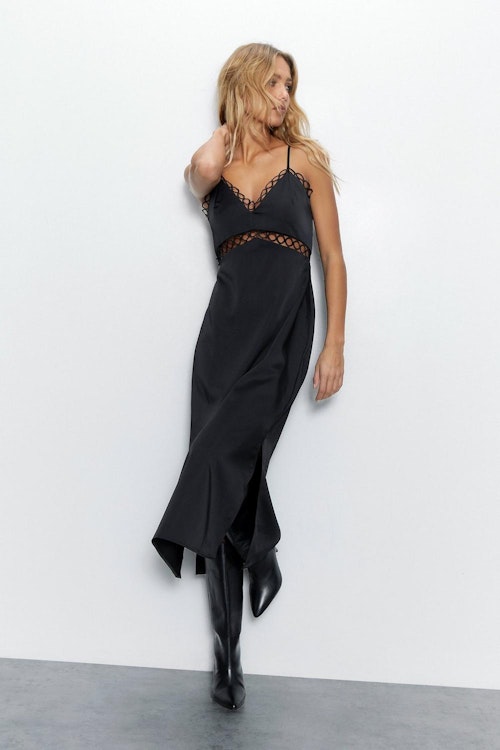 4 of 11
CREDIT: Warehouse
No wonder this satin, peekaboo detail dress is a bestseller over at Warehouse – get it before it sells out!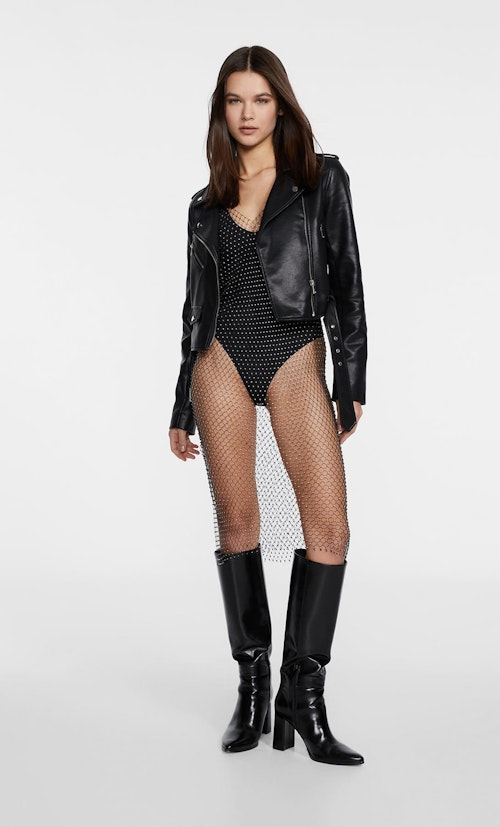 5 of 11
CREDIT: Stradivarius
Sheer dresses are everywhere at the moment, and this rhinestone-adorned style can be worn over lingerie or layered over a basic black style for a hint of sparkle.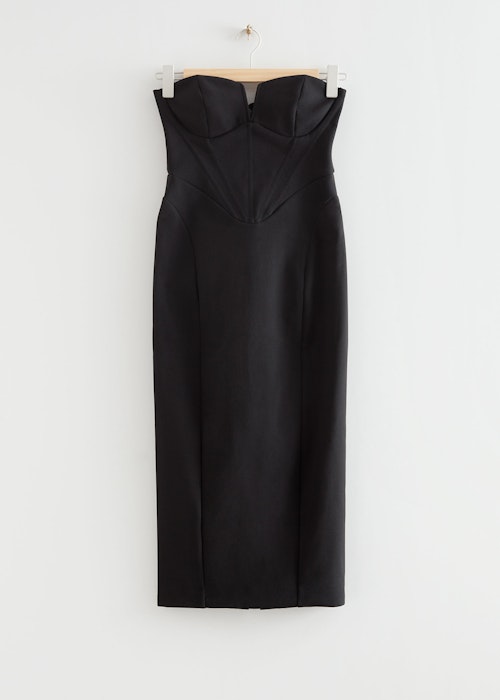 6 of 11
CREDIT: & Other Stories
That corset detail top with tight-fit bottom is ticking all the revenge dress boxes.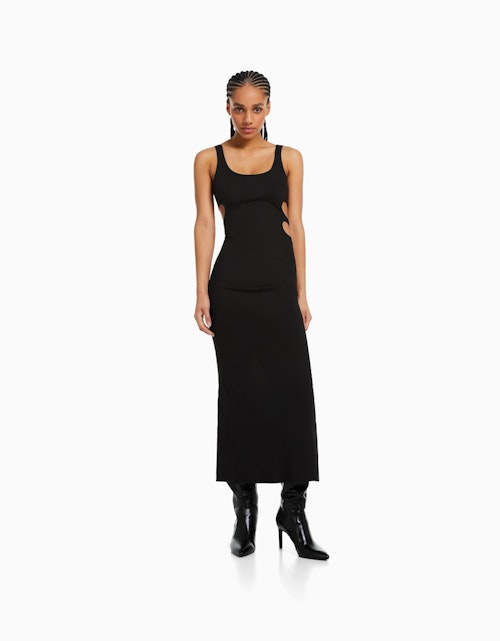 7 of 11
CREDIT: Bershka
Cut-outs on a simple black dress can take it from good, to great. You could easily wear it for day with the addition of a blazer and trainers.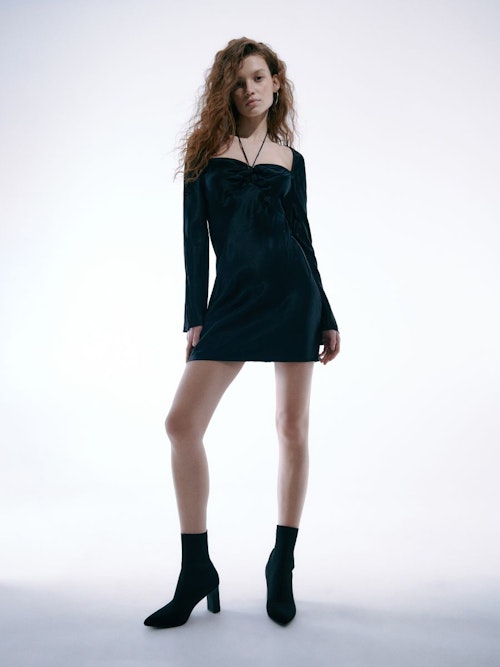 8 of 11
CREDIT: Reserved
A revenge dress needn't be a long style, of course you can opt for whatever length suits you – we love this Reserved mini.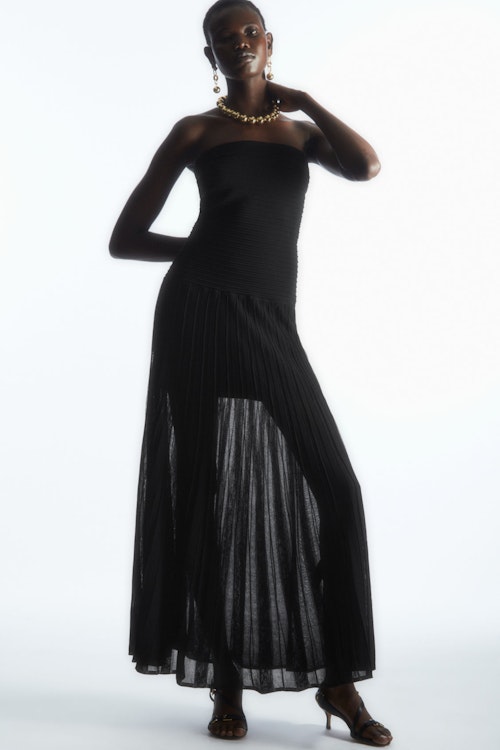 10 of 11
CREDIT: Cos
Combining multiple trends in one, this knitted, bandeau maxi dress is a thing of beauty.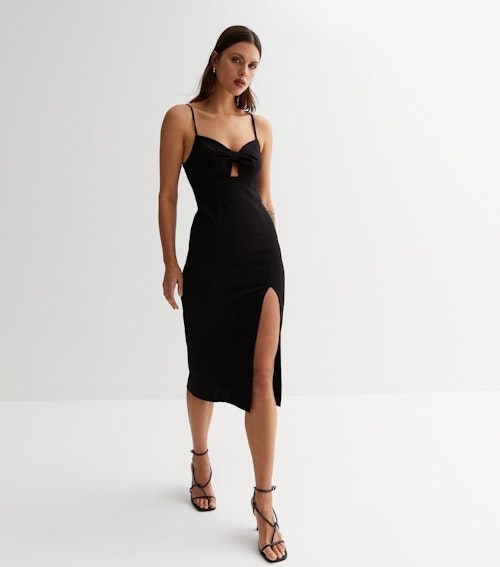 11 of 11
CREDIT: New Look
Another bodycon style (we told you they're back), this classic dress from New Look will never fail to impress.