Carlos Alcaraz stated that he is completely focused on his tactical match against Daniil Medvedev in the 2023 BNP Paribas Open final, where the World No. 1 ranking is on the line.
Alcaraz defeated Jannik Sinner in the semifinals to break new ground in Indian Wells and move within one victory of reclaiming the top spot in the ATP rankings.
Following his 7-6(4), 6-3 victory over the Italian, in which he saved a set point in the first set, the Spaniard will face former World No. 1 Medvedev in his first Indian Wells final.
Following his defeat of Sinner, Alcaraz stated in a press conference that while he will regain his World No. 1 ranking if he wins the 1000 Masters title, he is trying not to think about it and focusing solely on doing everything perfectly in the "tough" and tactical match against Medvedev.
"I know if I win tomorrow I'm gonna become the No. 1. Well, I will try not to think about that, just to, as I said, just to think about the things that I have to do, you know," Carlos Alcaraz said.
"Tomorrow I would say gonna be a really tactic match against Daniil. Is gonna be really tough. I have to make, let's say, everything perfect. That's all I'm gonna think tomorrow. But, you know, it could be great to win tomorrow, of course," he added.
---
"He's a wall; he returns every ball, impossible shots" – Carlos Alcaraz on Daniil Medvedev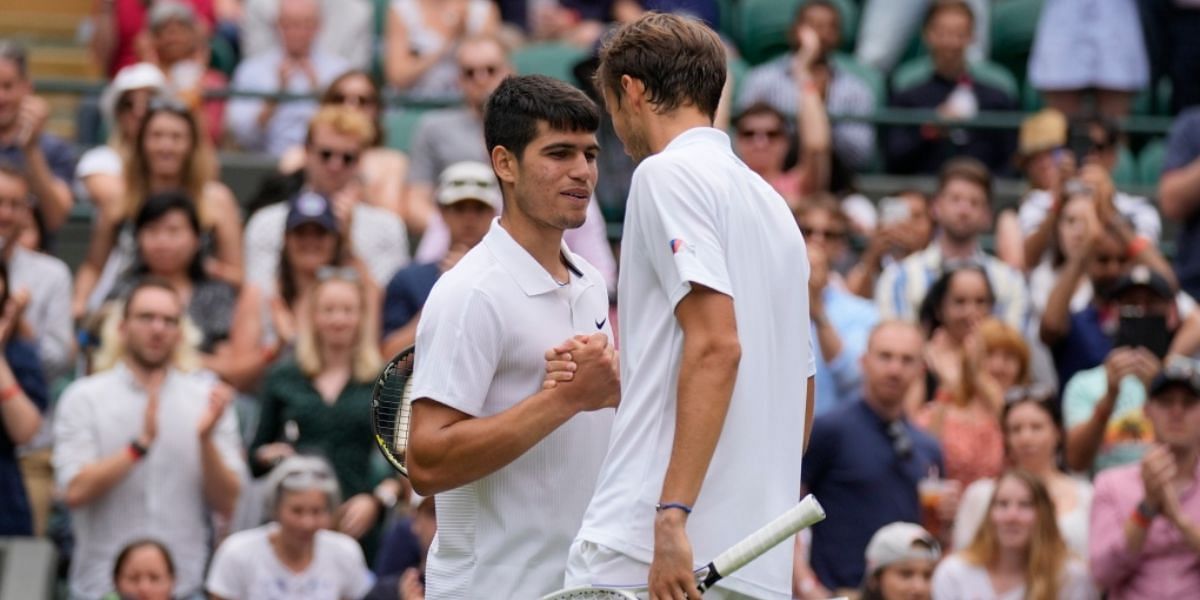 Carlos Alcaraz then discussed his upcoming opponent Daniil Medvedev, claiming that the Russian is a "wall" who returns almost all balls and impossible shots, as well as being an "amazing runner and player."
"He's a wall. He returns every ball, impossible shots. I talk with my team that the returns are almost, you know, in the corner of the court and still winning the points," he said.
"He's an amazing runner, he's an amazing player. I probably hit my best shots to, you know, hit winners against him," he added.
Alcaraz has faced Medvedev once on the ATP tour to date, at the 2021 Wimbledon Championships where the Russian emerged victorious. Speaking about that contest, the Spaniard stated that while he wasn't an "experienced" player back then, he now knows how to play against Medvedev, which will make the match "totally different."
"Well, if I'm not wrong, when I played against him, he was No. 2 in the world. Yeah, I just started to play on the tour, so I was not experienced player. For me, was a strange match," Alcaraz said.
"Right now is totally different. I'm experienced guy. Well, or at least I'm more experienced that match. I know how to play against him. You know, I practice with him a few times, as well, so is not new thing for me right now. So it's gonna be, I think, a totally different match," he added.
Carlos Alcaraz would be the first Spanish champion at Indian Wells since Rafael Nadal in 2013 if he prevails in the match. On the other hand, if Daniil Medvedev triumphs on Sunday (March 19), he will become the first Russian man to win the BNP Paribas Open.